Thursday, November 1, 2018
Wednesday, October 31, 2018
Monday, October 29, 2018
Thursday, October 25, 2018
Sun, sun, sun, here it comes...
Full Hunter's Moon setting at 7am this morning: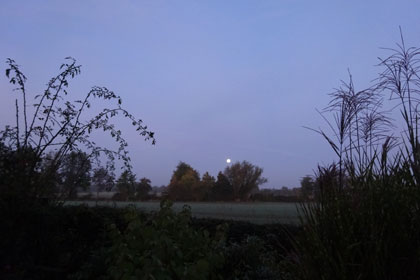 It was the coldest night of the autumn so far - down to about 5°C. And Orion (my favourite constellation) was beautiful at 4am.
I love it when a plan comes together. Some people plant at full moon, we install at full moon.
Coincidentally, today DG's busy writing about catastrophes that might beset the country, and we're busy future proofing ourselves against all eventualities (high impact / medium likelihood, and high impact / high risk).
7.5kWh of panels and 6.5kWh of battery. Together with a way of running the whole lot at normal power when the Ruskies turn off the power switch. Just how much would people pay us to charge their phones/cars/drones/dialysis machines/etc etc, I wonder? *rubs hands in gleeful anticipation*
Now I shall be able to play with the glass kiln to my little Witchy heart's content, for free, and perhaps get a pottery kiln too.
We seriously looked at putting in a system in 2006, when we had the extension done (how can that be over 12 years ago?), but, we felt, the technology then wasn't up to our needs, and the cost was crazy, so we ended up with solar thermal (for water heating) that Mr BW sourced and installed with a bit of help from the plumber we had onsite anyway.
Now, the technology to output energy to price ratios on PV are somewhere between 8 and 10 times better. And we will still get a little bit of feed-in payment for 20 years (but that is disappearing at the end of March 2019).
Given that our electricity has already gone up 17.6% this year (despite changing to the cheapest supplier twice), we're predicted a 9%+ ROI per year. Better than the pathetic (less than inflation) 2% the banks are offering currently. But, it's really more about feeling better about living more lightly, and keeping the lights on and the freezer (full of garden produce) working when the world falls apart.
I have never seen so many large boxes arrive here in one day before. The delivery lorry that dropped off the box of 25 panels put it right in the middle of the drive, so the installers can't leave tonight until they've fitted them. And I shall have to put safety lights on the three huge boxes currently filling the hall, because otherwise I will fall into them if I get up in the night. That's tomorrow's fun. And maybe Saturday's too, the way things are going.


So, once again I have men on my roof, and Mi1dred has been scared by the noises up above her bonnet (as it's a multi-directional array). Good job there is plenty of chunky new cardboard to absorb her oily drips.
If the archives weren't dead (except from within) I could put up some comparison pictures. But, this is definitely much louder than the last time. Think pneumatic drill loud. I can hear the roof screaming.


And as for the scaffolding... 12 years ago it was a few poles and a couple of planks, with a ladder propped against it; this time it is fully safety railed, with swing access gates at one end and fully attached ladder systems.
Back to the coffee making duties...
Wednesday, October 24, 2018
Saturday, October 13, 2018
Wednesday, October 10, 2018
Monday, October 8, 2018
Wednesday, September 26, 2018
Monday, September 17, 2018
Saturday, September 15, 2018
Tuesday, September 11, 2018
Friday, September 7, 2018
Tuesday, September 4, 2018
Monday, September 3, 2018
Friday, August 31, 2018
Friday, August 24, 2018
Thursday, August 23, 2018
Wednesday, August 22, 2018
Thursday, August 16, 2018
Wednesday, August 15, 2018
Tuesday, August 14, 2018
Monday, August 13, 2018
Sunday, August 12, 2018
Saturday, August 11, 2018
Friday, August 10, 2018
Wednesday, August 1, 2018
Monday, July 30, 2018
Tuesday, July 24, 2018
Friday, July 20, 2018
Wednesday, July 18, 2018
Friday, July 13, 2018
Thursday, July 12, 2018
Wednesday, July 11, 2018
Thursday, May 3, 2018
Wednesday, May 2, 2018
Tuesday, May 1, 2018
Saturday, April 28, 2018
Friday, April 27, 2018
Tuesday, April 3, 2018
Monday, April 2, 2018
Saturday, March 31, 2018
Friday, March 30, 2018
Thursday, March 29, 2018
Wednesday, March 28, 2018
Thursday, March 22, 2018
Tuesday, March 20, 2018
Saturday, March 17, 2018
Wednesday, March 14, 2018