Saturday, December 2, 2023
Friday, December 1, 2023
Thursday, November 30, 2023
Saturday, November 4, 2023
Friday, November 3, 2023
Wednesday, November 1, 2023
Tuesday, October 31, 2023
Saturday, October 28, 2023
Friday, October 27, 2023
Tuesday, October 24, 2023
Saturday, October 21, 2023
Friday, October 20, 2023
Thursday, October 19, 2023
Friday, October 13, 2023
Thursday, October 12, 2023
Wednesday, October 11, 2023
Tuesday, October 10, 2023
Saturday, October 7, 2023
Saturday, September 30, 2023
Thursday, September 28, 2023
Tuesday, September 26, 2023
Sunday, September 24, 2023
Sunday, September 17, 2023
Friday, September 15, 2023
Thursday, September 14, 2023
Wednesday, September 13, 2023
Tuesday, September 12, 2023
Monday, September 11, 2023
Sunday, September 10, 2023
Thursday, September 7, 2023
Tuesday, September 5, 2023
Monday, September 4, 2023
Sunday, September 3, 2023
Friday, September 1, 2023
Repurposing, and saving b33s
Occasionally one of you says something in the comments that reminds me of things I have mentioned before and then forgotten about. Yesterday it was Scoakat.
This is the place where the labyrinth was going to go. Until last summer.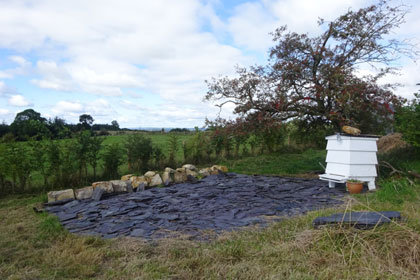 Only we then had several roofs full of old slates that were beyond reuse to dispose of.
We had anticipated the slates being put back on the roofs they came off, but it became apparent that they were not best quality when they were first reused in 1974, and they were several different sizes. I'm pretty sure that the disappearing/disappointing roofers also dumped some they'd taken from elsewhere on the pile they left behind.
It was either pay for 2 skips (the better part of a thousand pounds) and for them to go to landfill, or come up with a plan.
So I came up with a plan. Make a slate garden out of them.
One day when Chief Builder wasn't here - or he'd undoubtedly have charged us extra - we got his lads to take the (many) piles of slate down to the bottom of the orchard and spread them over a flat area.
We then added the best old 'traditional' b33hive we have (salvaged from a field years ago and refurbished), and Mr BW put in a row of big stones from the demolished front of the house to stop the slate sliding down if there was torrential rain, and to make an edge to strim grass up to. I've been adding plants occasionally (not visible in the photo), mostly white, and eventually the area will have seats and a table, and be a nice place to sit. If we ever have time for sitting.
From time to time I go and jump on the slates, and, eventually, it will all be crushed. Perhaps we should have a pogo party to get it done more quickly?


This 'Lemon Popsicle' Kniphofia, just outside the kitchen door, came out a couple of days ago. The b33s are loving it, and the nearby chive flowers. The summer has not been good for any pollinators, as they can't fly when it is raining or too cold, and we've seen maybe a tenth of the butterflies we had last year, and about the same for bumble b33s. I've seen very few hover flies, and few solitary b33s.
With a few sunny days in the last week, our b33s are madly flying anywhere and everywhere, trying to gather enough pollen and nectar to raise the winter bees that will keep their colony alive until spring. Usually honeyb33s won't forage on 'complicated' flowers, because their tongues are relatively short (compared to bumbleb33s) and they can't reach into the flower corollas. Generally they just ignore anything that is not a 'single' or 'open' flower, but they are currently so desperate that they are exploring complex flowers they usually wouldn't go near. Here, a 'frizzy' poppy (which we didn't plant here but which must have come up from the south, where they just appeared and cross-bred over the years). Apologies for the poor photo (two b33s to the RHS are about to dive into the petals to see what they can find):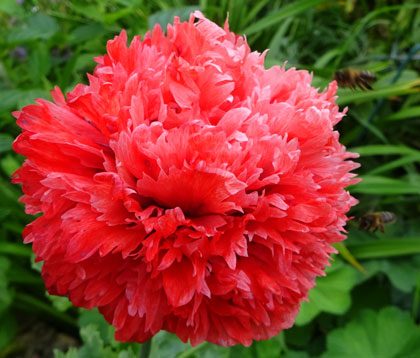 For the first time in the 28 years we have had buzzy familiars, we haven't taken any h0ney off at all. On August 11th, because of the poor weather in preceding weeks, when we opened the b33s on the first fine day, we found two colonies starving and had to emergency feed them with sugar syrup. There was no h0ney at all stored in the brood frames. Had we not opened them on that day, they might now be dead.
I am still very shocked and upset about that, but have to console myself that we did get there in time, and we couldn't have looked at them any sooner as it was too cold and too wet to open the hives.
In order to get them through the winter now, we will have to feed each colony around 20kg of sugar syrup, as they have been unable to collect enough nectar to store, and only just enough to keep themselves going through the summer. Luckily b33s aren't fussy about where their carbohydrate comes from, but Costco are limiting what they are allowing people to purchase, and it's currently around £1.17 a kilo in supermarkets (cf 60p a year ago and 48p in 2019), plus stirring 200kg of granulated sugar into boiling water (it takes about a litre of water to dissolve a kilo of sugar) to dissolve it into solution is a big and arm-exhausting task. It's going to cost £200 to hope to keep them alive over winter, with no income as there has no h0ney to harvest. The tax man is not going to be happy at the size of loss we will be declaring this year! We don't keep b33s to make money, but it is nice if we can break even, as well as do good through providing a pollination source to farmers.
Of greater concern is whether queen bumbleb33s (and other b33s where they do not persist as whole colonies over winter) will have been able to store enough body fat, before they go into hibernation, to survive the winter.
I don't know what sort of summer b33keepers have had in other parts of the country, but talking to others locally at the Show last weekend, it's the same story all over up here. This really has been the most challenging year in living memory. As I said to Mr BW, if this had been our first year, I don't think we'd have had a second.
And while we're having a catchup post, we have finally (nearly) finished the area around the vegetable beds in front of the greenhouse. We never rush into doing things until the ideas we have feel 'right', and this part has taken 3 years to finish off, although we have been growing in the raised beds since soon after the greenhouse was finished the first autumn we were here (2020).


The central 'feature' is another big lump of recycled house stone, topped by an old feeder (into which we will plant something when we decide what), and several objets: many old shoe lasts, and some triangular metal floor tiles from a closed foundary in the next village down south. All picked up over many years for not very much money at all, or given to us by people clearing out (on which subject, we have already gained a reputation locally as Rehoming Central and Nice Nearest Neighbour this week kindly gave us a beautiful 40" x 18" slab of granite left over from her kitchen refit 5 years ago, which will no doubt turn into a table or bench eventually - maybe even down in the slate garden pictured at the beginning as I've just realised the colours will be perfect together).
The small green lumps are creeping thyme (loved by b33s) which will hopefully cover the entire area around and between the stepping stones eventually. We bought two very large plants (for £4 each), split them into 8, and will propagate more by dividing them further as time goes on.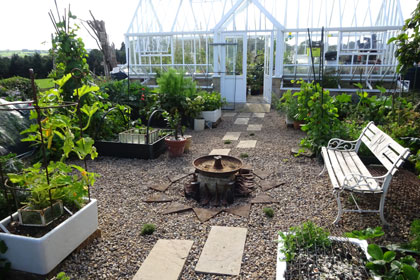 Thursday, August 31, 2023
Wednesday, August 30, 2023
Friday, August 25, 2023
Friday, August 11, 2023
Wednesday, August 9, 2023
Tuesday, August 8, 2023
Saturday, August 5, 2023
Friday, August 4, 2023
Thursday, August 3, 2023
Wednesday, August 2, 2023
Tuesday, August 1, 2023
Sunday, July 30, 2023
Saturday, July 29, 2023
Friday, July 28, 2023
Wednesday, July 26, 2023
Tuesday, July 25, 2023
Sunday, July 23, 2023
Tuesday, July 18, 2023
Sunday, July 16, 2023
Thursday, July 13, 2023
Sunday, July 9, 2023
Thursday, July 6, 2023
Monday, June 19, 2023
Sunday, June 18, 2023
Tuesday, June 13, 2023
Friday, June 9, 2023
Monday, June 5, 2023
Sunday, June 4, 2023
Saturday, June 3, 2023
Wednesday, May 31, 2023
Sunday, May 21, 2023
Monday, May 15, 2023
Sunday, May 14, 2023
Saturday, May 13, 2023
Thursday, May 11, 2023
Sunday, May 7, 2023
Friday, May 5, 2023
Saturday, April 29, 2023
Thursday, April 27, 2023
Tuesday, April 25, 2023
Sunday, April 23, 2023
Sunday, April 16, 2023
Saturday, April 15, 2023
Thursday, April 13, 2023
Wednesday, April 12, 2023
Tuesday, April 11, 2023
Sunday, April 9, 2023
Friday, April 7, 2023