Sunday, September 11, 2016
Wednesday, August 24, 2016
Thursday, August 18, 2016
Tuesday, August 16, 2016
Sunday, August 14, 2016
Saturday, August 13, 2016
Friday, August 12, 2016
It's the ninth day of summer today
There were 7.5 consecutive days in mid July, half a day last Saturday, and, today. So far, that's been it.
Summer, by my definition, is not a day which is cloudy and grey, or below 26°C (80°F).
As friends who came to lunch last weekend said to me, I clearly live in the wrong country.



The field of wheat behind us this year is more than ready to harvest, as this 180° panorama (taken at lunch-time today) shows, but the shared local combines are working elsewhere (we can hear them droning in the distance: Mr BW says the sound reminds him of Saving Private Ryan; I thought I remembered that film, but it turned out I was remembering Private Benjamin. Films and me have a very poor relationship).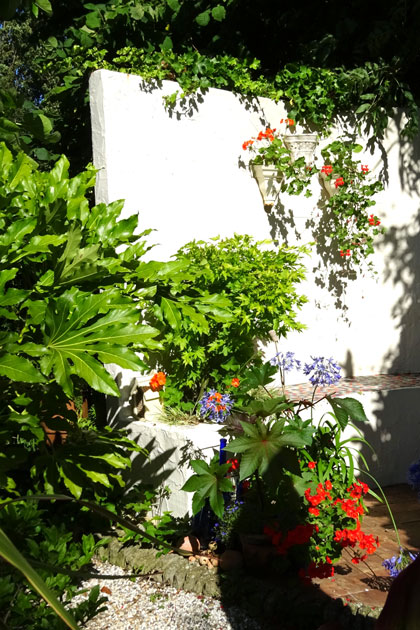 The light in the Mediterranean Garden was perfect this afternoon.
In fact, the light everywhere in the garden was perfect: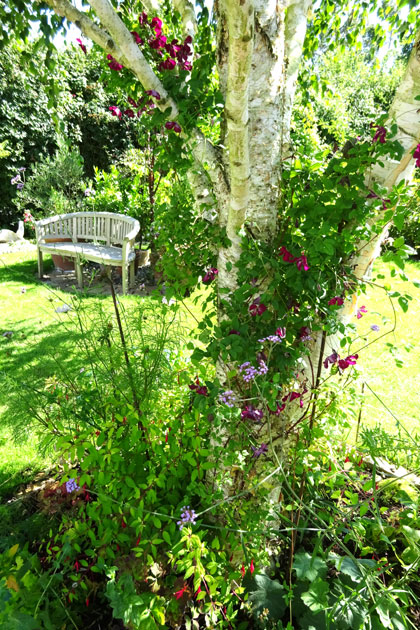 This is our new-this-year bean and squash tunnel (b1acksmithed by Mr BW following an idea gleaned from a South African vineyard garden):


And this is Mr BW's b1acksmithing vice. It doubles as a plant stand:


I've spent the last three days engaging in higher order finance and financial negotiations. Not an activity I like, but one essential to us, as, both retired by 50, we're currently living mostly on my small ill-health pension, and interest on the savings from our low-cost and as self-sufficient and sustainable as possible living practices over the years.
With a new round of quantative easing just announced by the Bank of England, and more government money available to banks at ridiculously low interest, financial institutions don't need the attract in the public's money, so interest rates for investments are lower than ever.
I refuse to accept less than 2% interest from anyone (basically because we would then be eating into capital for day-to-day expenses, which will create problems for us in the longer-term), and it's getting harder and harder to find homes for maturing funds that have been in 5 year fixed rate bonds earning nearly 5%, but now need re-investing.
As I've mentioned before, I'm currently using 18 current accounts, and their linked regular savings accounts, to get between 3% and 6% interest.
Unfortunately, Bank of Scotland, who allow three current accounts per person, each giving 3% on amounts between £3K and £5K, have just added a new condition requiring two direct debits to be paid out of each account in each calendar month, from September. Hence I've had to find 12 direct debits to relocate.
We don't have many things on direct debit as we don't have subscriptions to things like Sky or Netflix, or mobile phones on expensive contracts (I've recommended giffgaff, which runs on the O2 network, before - get a free sim-card sent to you from this link and you'll get £5 credit, and so will I):

Finding 12 direct debits has taken some doing: moving direct debits that were going out of our main bank account, finding things that could be paid in instalments without incurring huge fees (I've discovered that car tax can now be paid in 12 instalments, for a 38p a month premium, which grieved me, but is a reasonable trade-off for a £12.76 interest gain per month). After much fiddling, I was still one short, so had to apply for a new credit card, on which I will make one small transaction every month, so ensuring the twelfth direct debit.
In moving the direct debits that pay off our cashback credit cards in full every month, I discovered that Barclaycard now offer a free 'Experian what is your credit score?' service, via their online portal. I've never been able to check this before (I get free updates on my credit file with my Capital One credit card, but not a free credit scoring service, and there is no need to pay for it as there is no need to know - not least because each lender uses their own acceptance criteria anyway). I was very surprised that, despite having limited income, both Mr BW and I have absolutely prefect credit ratings: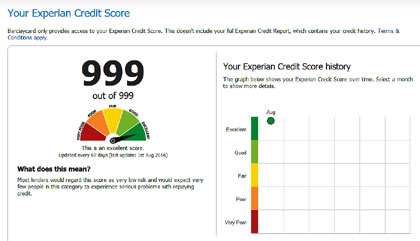 From what I've read in the financial media, I didn't believe this was possible. Particularly considering the amount of stoozing I did to pay off our mortgage ten years ago. But, I think this should provide encouragement to everyone - manage whatever money you have really carefully and you will be rewarded.
Unfortunately, August is the month where our house buildings and house contents insurances, and two car insurances fall due, requiring much online research and then hard negotiating, as I have a deep aversion to being ripped off. 23 minutes on the phone to the car insurance company and the two premiums dropped from a total of £443 (a huge increase on last year when I moved us both back to a new multi-car policy), to a total of £303. Both fully comprehensive, with business use, and just a £60 excess. If they can rip you off at renewal, they will.
Looking at the renewal documents, I realised that we were paying over £80 a year in motor legal protection on our three car policies. Given the stories I've heard from friends recently about the very limited use of these policies (they will only take on a case if they think it has at least a 51% chance of success, and will give up at any opportunity and either give no, or very spurious, reasons for their opting out), I had become quite cynical about them. We always take out free-standing damage excess cover when we hire cars abroad (and save huge amounts of money), and I idly wondered if similar free-standing policies were available for motor legal cover.
I've never seen this mentioned anywhere, including on money-saving websites. But... a quick bit of Googling and we found that DriverGuardian offer a year's motor legal cover for a driver driving any car, for £15 for one person, £20 for two, or £25 for four. We compared the cover side-by-sde with our existing policies, and the cover is slightly better, and gives wider coverage. Another saving of £60. They seem to have good feedback too.
Yeah, it's hard work beating financial institutions at their own games, and you need a good diary system, and to be absolutely forensic about checking the T&Cs, and printing everything out and filing it away carefully for future reference, but it's amazingly satisfying. Beats going to work anyway.

We are thoroughly enjoying the Rio Olympics, although I am a little sad about all the empty seats at many events. As someone of very short attention span, the flitting about of the coverage suits me - and aren't the BBC presenters working hard? Very impressive. It's great to see our sportspeople doing so well (currently 4th in the medal table): amazing what can be achieved in sports once they receive proper funding.
I really don't understand all the whipped-up by social media hoo-ha about sexist commentary. Celebrate the differences people, celebrate the differences. Men and women are not the same, and it's time we stopped pretending. Although, I do think the women athletes should be allowed to wear rather more clothing - and I don't like the design on the GB kit this time - it took me 3 days to work out what the dark silhouette was. To add my own little bit to this debate - it amazes me how much make-up the girlies wear. Most of them look like they're going to a party! In my county-level athletics days we wouldn't have dreamed of wearing make-up.

I've never managed to see the Perseids. It's clear here, so tonight could be the night...
Tuesday, August 9, 2016
Monday, July 25, 2016
Wednesday, July 13, 2016
Monday, July 11, 2016
Wednesday, July 6, 2016
Friday, July 1, 2016
Thursday, June 30, 2016
Wednesday, June 29, 2016
Tuesday, June 28, 2016
Monday, June 27, 2016
Friday, June 24, 2016
Tuesday, May 10, 2016
Tuesday, May 3, 2016
Tuesday, March 1, 2016
Thursday, February 25, 2016
Wednesday, February 24, 2016
Sunday, February 14, 2016
Saturday, February 13, 2016
Thursday, February 11, 2016
Tuesday, February 9, 2016
Monday, February 8, 2016
Sunday, February 7, 2016
Friday, February 5, 2016
Thursday, February 4, 2016
Friday, January 29, 2016
Thursday, January 28, 2016
Tuesday, January 26, 2016
Monday, January 25, 2016