Wednesday, December 17, 2014
Sunday, December 14, 2014
December - cold at last
Lots of significant days this week, and not just for the dates (10.12.14; 14.12.14). But, I am not at liberty to say too much about any of that. Not just yet, anyway.
Dad's rose today (it's climbed up beyond the height of the house, and is waving in the blue sky):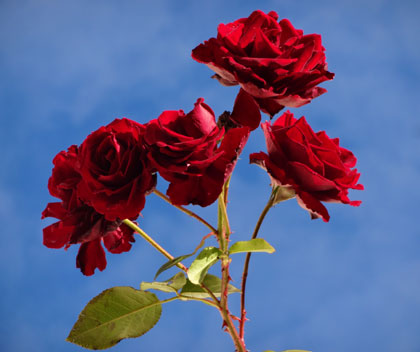 East view last Monday (after the first really hard frost of the year):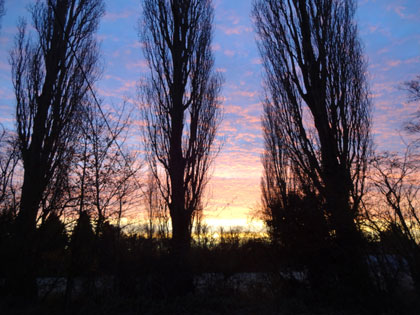 West view last Monday (after the first really hard frost of the year):


Hens, now on their winter pasture (weeding and feeding the lawn):


The full moon setting the other morning (with added plane, just for a change...):


Sadly, one of the eight month old black kittens was killed by another speeding motorist sometime in the night. She was the least friendly (even Cleaner BW who can usually tame even feral cats failed to get a collar on her while she was looking after them when we were away in Northumberland for two weeks recently), but it was still a shock when our elderly neighbour (who gets up earlier than we do) knocked on the door to tell us the bad news soon after it got light this morning.
This, from November 21st, is the only (half) picture I have of her as a big cat (top right) - she is trying to be friendly (if only because there is some bribery occurring to permit Frontlining):


Her sister is the middle one with the blue collar.
In the first ten years that we lived here, we lost 16 cats to the road. This is (touch wood) only the second since 2005 (who remembers TGF the very fluffy one?) when, after a lot of lobbying, we got the 40mph speed limit for our lane.
Every cat who has ever died on the road has (thankfully) been killed instantly. But, until today, I have never seen one with its eyes popped completely out of its head (I thought I'd spare you the photo): four wheels must have been doing a hell of a speed. So, we now have only three: the two mummies, who can't have any more, and one daughter, upon whom future lineage now depends...
The International Space Station is back over the UK again from tonight - where we are, 5:46 PM, Visible: 2 min, Max Height: 56 degrees, Appears: SW, Disappears: ESE. You have signed up for the email alerts for your location, haven't you? I see that there are two flypasts (flyovers?) planned for my Witchday later in the week, and two for FOTCR™ Day. Fab.
If you know a teenage gamer who you'd like to be more involved in STEM subjects... then NASA have come up with something to encourage them: Dust.
Because, there is a real future in space, with considerable UK taxpayer investment. Which is just as well, because our 'great leaders' in Lima couldn't even agree what they should be doing about climate change right now: postponing a decision isn't an option that they should ever have taken. And how is it two years this week since Patrick Moore died?
Friday, December 12, 2014
Tuesday, December 9, 2014
Friday, December 5, 2014
Thursday, December 4, 2014
Wednesday, December 3, 2014
Tuesday, December 2, 2014
Monday, December 1, 2014
Tuesday, November 25, 2014