Saturday, October 13, 2018
Wednesday, October 10, 2018
Monday, October 8, 2018
Wednesday, September 26, 2018
Monday, September 17, 2018
Saturday, September 15, 2018
Tuesday, September 11, 2018
Friday, September 7, 2018
Over-priced
I still haven't got over seeing bread at £12 a loaf (yes, twelve pounds, for a loaf of rye bread) at a recent country fayre:


£8 and £12 for something I regularly knock up in a few minutes.


Who buys this stuff?
Yesterday, I saw some bars of soap for £8 in a 'shop for people with too much money' in a local town . "Only natural products, pure essential oils, hand-made!" claimed the point-of-sale display. Yeah, so is mine, and it costs less than a fiver to make 16 bars, because I've costed it out. £128 minus £5 = £123 profit. Sheesh.
I also strongly suspect that said shop is trading illegally, because, soaps, creams, ointments, balms etc sold to the public have to be tested and certified by a properly qualified chemist, which costs a minimum of £300 per product - hence why we don't (can't) sell the products we make from our own b33 products.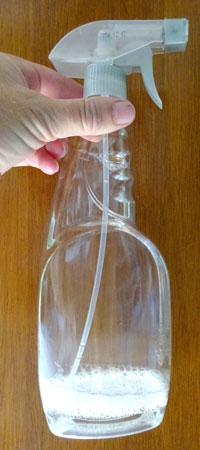 I'm always horrified when I see how much cleaning product Cleaner BW thinks is acceptable to 'discard'.
The image on the right is what she left in this week's 'empty' bottle.
I have her trained to leave 'empty' spray bottles by the utility sink, ready for me to remove labels and rinse out for re-use (so many purposes when you have a garden and crafty hobbies).
What she doesn't know is that I tip the remaining product into the new bottle she has started, rinse out the now-properly-empty spray bottle with liberal amounts of water, tip that into the new bottle too, before repurposing (I really hate that word) the original bottle.
Similarly, I always rinse out any empty shampoo and washing-up liquid bottles, and empty food jars and bottles.
I guess I'm in a minority there?
Tuesday, September 4, 2018
Monday, September 3, 2018
Friday, August 31, 2018
Friday, August 24, 2018
Thursday, August 23, 2018
Wednesday, August 22, 2018
Thursday, August 16, 2018
Wednesday, August 15, 2018
Tuesday, August 14, 2018
Monday, August 13, 2018
Sunday, August 12, 2018
Saturday, August 11, 2018
Friday, August 10, 2018
Wednesday, August 1, 2018
Monday, July 30, 2018
Tuesday, July 24, 2018
Friday, July 20, 2018
Wednesday, July 18, 2018
Friday, July 13, 2018
Thursday, July 12, 2018
Wednesday, July 11, 2018
Thursday, May 3, 2018
Wednesday, May 2, 2018
Tuesday, May 1, 2018
Saturday, April 28, 2018
Friday, April 27, 2018
Tuesday, April 3, 2018
Monday, April 2, 2018
Saturday, March 31, 2018
Friday, March 30, 2018
Thursday, March 29, 2018
Wednesday, March 28, 2018
Thursday, March 22, 2018
Tuesday, March 20, 2018
Saturday, March 17, 2018
Wednesday, March 14, 2018
Saturday, March 10, 2018
Tuesday, February 27, 2018
Friday, February 23, 2018
Wednesday, February 21, 2018
Monday, February 19, 2018
Saturday, February 17, 2018
Thursday, February 15, 2018
Sunday, February 11, 2018
Saturday, February 10, 2018
Friday, February 9, 2018
Thursday, February 8, 2018
Wednesday, February 7, 2018